Great Greetings™ Send-Off Highlights
For the first time, Impagination's archive of 30 years of Great Greetings™ came out of the vault and went on display to honor the collection, creativity, and story behind each campaign. 65+ fans and supporters viewed and voted for their favorites and shared their reminiscences of past holiday greetings with us.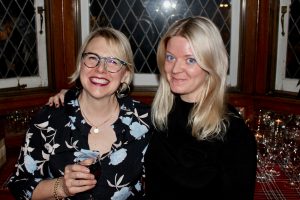 Debbie Bunze
I recall opening a beautiful polka dot bag, and to what do my eyes behold? Beautiful amaryllis cards and chocolate… with bacon, the "other" food groups! (2012)
Randi Helmers
The Christmas star decoration with Old Santa on one side and adorable baby Alex on the other jumps to mind (Cherish the Old 1997)!
Krista Downey
I love all the greetings, but especially the FA LA LA card. (2014)
Liz Springate
I was thrilled to see the designs we worked together to create (2000-2002), and yes I filled in a ballot. Can't wait to discover the winner.
Julia Gorman
For many years, we put the Impagination card on our Christmas Tree… each one was so lovely – like a unique ornament especially for us.
Susan Ward
Always beautifully crafted and delightfully surprising.
Jay Wall
Growing up, I remember receiving Impagination's crafty greeting every year. That's when I knew the holiday season had officially begun.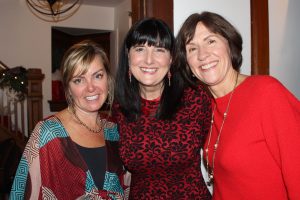 Kim Reid
What a fabulous get together! The evolution of the holiday greeting cards was very impressive – incredible to think of the total amount of time that has gone into designing and creating them. They are very beautiful and unique.
Lois Smith
What fun it was to be part of your event! It was a very upbeat vibe and we were all made to feel so welcome. I enjoyed meeting several other guests – colleagues, collaborators, friends and fans alike. It was so nice to see 127 Delaware – having heard about its red floors, seen the rows of awards on Zoom calls – it felt like the official kick off to the Holiday Season!
Help Us Help HER
Couldn't make it to the big send-off? You can still own a piece of Great Greetings™ history while helping us help others this holiday season. We're raising funds for the re-imagined North York Women's Shelters through the HER Campaign. HER stands for healing, empowerment, and refuge. The vision of HER is to build a new first of its kind anti-violence against women centre, and we want to help. Donate before December 31st and you could receive a gift from our Great Greetings™ archive. Learn more about the campaign and make a donation here.