For motivated business leaders who want more ease, success and confidence running and growing their businesses.
FREE Live Webinar
In 60-minutes
Discover how you can become a leader who makes quick confident decisions and avoid the disappointment of lost opportunities. Understand how you can leverage your team and increase sales and revenue.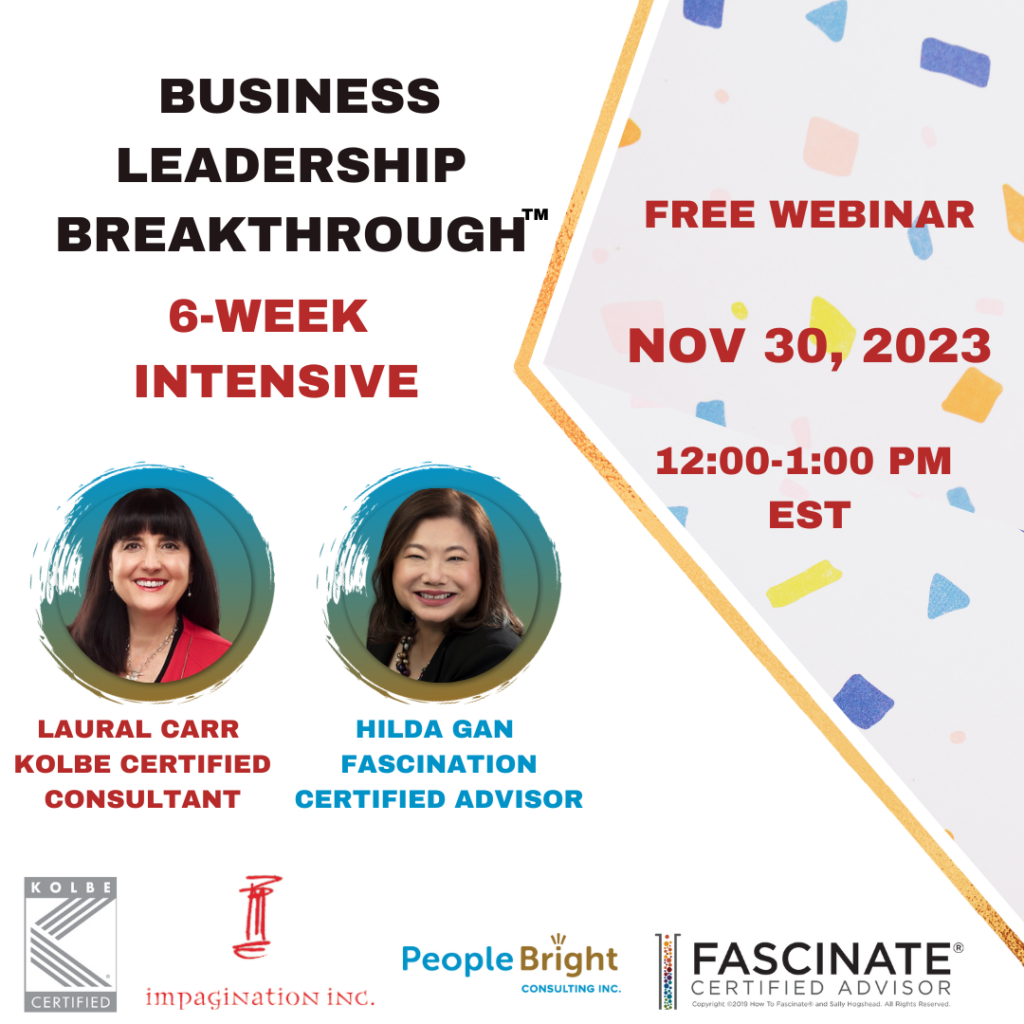 Join two seasoned, in demand business experts who will help you tap into your zone of genius so you can unleash the best leader you can be.
Kolbe Certified Consultant,
Laural Carr
and
Fascination Certified Advisor,
Hilda Gan
on
Thursday, November 30, 2023,
12:00-1:00 PM ET
Join us for this powerful 60-minute webinar
After you attend this 60-minute intensive you'll take-away a clearer understanding of your unique leadership attributes, which will propel your business forward with:
Successful relationships
Easier communications
Confident decision-making
Yes! I want more ease, success, and confidence!
Ready for a transformation to a more confident you?
Passionate about her clients working in their natural style to achieve results with ease, Laural Carr helps you find more clients, shorten your sales cycle and build a team to generate more revenue. She is an award-winning marketer, Coach and Kolbe™ Certified Consultant who wants business leaders and their teams to excel.
Hilda Gan is the Founder and Chief People Officer of People Bright Consulting, an international best-selling author, motivational speaker, leadership and team trainer, the creator of REVUP Your Potential™ and a Fascination Certified Advisor. Her company provides HR Consulting Services, People Leadership skills, Team Building and Diversity training.
"This was so valuable to me in understanding my individual advantages and how to leverage them. I gained so much value related to how I appear to others which has been a bit of a puzzle for me. Your candid and open approach is very appreciated, and I learned a great deal which will serve me well in my journey towards business success."

– Theresa Martin, Willington Martin CPAs
"Laural showed me how applicable Kolbe™ is in every facet of my life from parenting to work. It gave me a new understanding of how to use my time and energy."

– Rebecca Greco, CEO of Fig House Communications
Do you feel overwhelmed, lack confidence, or are you unable to market yourself or your business, then join us for the Business Leadership Breakthrough and discover two tools to uncover a more confident you.
Join this Live FREE Virtual
Business Leadership Breakthrough
November 30, 2023
12:00 – 1:00 PM ET